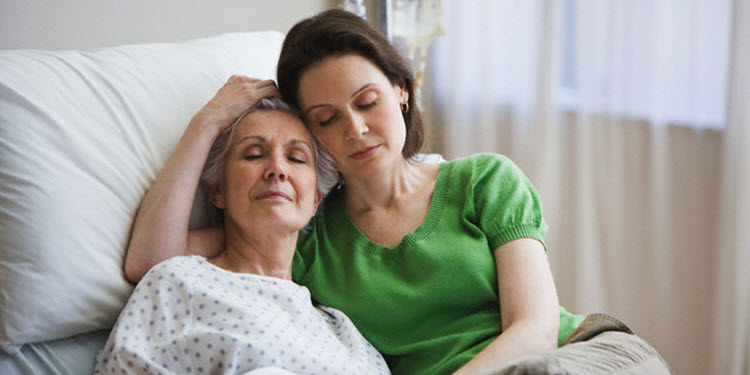 Caring for the Loved One and Caring for the Self
Our Caregiving Program
Our Caregiving Program provides three indispensable services: Caregiving Resources to help caregivers take care of their loved ones; Health & Wellness Resources to help caregivers take care of both their loved ones and themselves; and The Caregiver's Guide to Self-care, to help caregivers take care of themselves.
Why? More than 53 million families—more than one in five Americans—experience daily limitations caring for a dependent child or adult, according to the 2020 AARP/NAC study. In the five years since 2015, this number has increased by 9.5 million, and nearly 48 million of these caregivers care for someone over the age of 18. The economic value of these unpaid contributions in 2017 was more than $470 billion, up from $375 billion in 2007. On average, caregivers spend 23.7 hours a week providing care, with one in three (32%) providing care for 21 hours or more, and one in five (21%) providing care for 41+ hours—the equivalent of a full-time unpaid job.
And in this time of pandemic, this number—more than one in five Americans—has risen to one in three (Genworth, 2019).
Caregivers often experience diminished concentration and health, withdrawal, clinical depression, increased susceptibility to substance abuse, and other disorders. Caregivers encounter strained relationships with spouses and other family members. Compassionate, committed caregiving take a toll on body, mind, and spirit; on finances, family, and work-life. Since the pandemic, 83% of caregivers report an increase in stress (RCI, 2020).
Beyond its personal consequences, caregiving impacts organizations. Most caregivers also work outside the home in addition to their caregiving responsibilities. An HBS 2019 study reports that 73% of all employees have some type of current caregiving responsibility. Six out of 10 (61%) caregivers experience at least one change in their employment due to caregiving, such as cutting back work hours, taking a leave of absence, and receiving a warning about performance or attendance (AARP/NAC, 2015). Many will seek part-time instead of full-time responsibilities, and according to a report from The Caring Company and Harvard, 32% of employees will leave the workforce for family caregiving responsibilities.
The cost is far greater than dollars. Working caregivers are more susceptible to poor health, eating disorders, substance abuse, and sleep maladies. These lead to reduced energy, chronic fatigue, and mood swings. Caregivers are also more likely to develop conditions such as heart disease and autoimmune diseases. Nearly a quarter (23%) of caregivers find it hard to take care of their own health and a distinct 23% say caregiving has made their health worse.
Our Caregiving Services were created to be a comprehensive solution to the contemporary challenges of caregiving. We recognize that most Caregivers today are not professional medical personnel but rather family members caring for a loved one. While more adult children are caring for their aging parents, there are many parents who take care of a special needs child, teen, or adult; and many altruistic caregivers who choose to participate in their State's shelter or foster care programs. Our Caregiving Services are arranged by eight Life Stages: Child, Teen, Young Adult and Transition, Single, Family Years, Pre-Retirement, Retirement, and Sunset, and take into consideration the layperson's non-medical background when presenting the information.
View our Caregiving & Wellness Sales Flyer
Caregiving Resources
Our Caregiving Resources are arranged by Life Stage: Child, Teen, Young Adult Transition, Single, Family Years, Pre-Retirement, Retirement, and Sunset, so it is easy for the Caregiver to locate and focus on the information that is needed. Depending on the Life Stage being accessed, information includes Caregiving Quick Reference, Caregiving Tools, Medicaid or Medicare, Foster Care, Statutes & Guidelines, and Searchable Resources.
Caregiving Quick Reference, CQR, provides one-minute strategies for managing medical diagnosis. CQR offers simple to read and simple to understand Keys to Success, Shopping Guide, and Supplement for a wide variety of medical diagnosis simplifying caregiving.
Create a system for organizing caregiving responsibilities, managing appointments and medications, identifying resources to support activities of daily living, preparing for emergencies, anticipating the care recipient's needs. Learn to balance your personal schedule, find time for things you enjoy and prioritize self-care!
View our Caregiving Resources Sales Flyer
Health & Wellness Resources
Our Health & Wellness Resources are arranged by Life Stage: Child, Teen, Young Adult and Transition, Single, Family Years, Pre-Retirement, Retirement, and Sunset, so it is easy for the Caregiver to locate and focus on the information that is needed. Depending on the Life Stage being accessed, information includes Nutrition, Exercise, Emotional and Behavioral Health, Relationship Health, and Self-care. Discover the pillars of wellness as you cultivate a stronger sense of mental and physical wellbeing.
Learn tips and strategies to improve relationship health, improve interpersonal communication, reduce childhood bullying, and support the transition from adolescence to adulthood. Deepen your understanding of the importance of self-care, and explore easy-to-implement activities that you can use to enhance self-reflection.
Discover the foundations of nutrition and exercise science as you develop the skills to create and design your own grocery guide, and age-appropriate fitness programs. Learn how to balance macronutrients and micronutrients and how to read nutrition labels. Explore creative and fun activities that improve your physical and mental health at any life stage, and utilize supportive resources to aid in lifestyle modification and improve self-confidence.
View our Health & Wellness Resources Sales Flyer
The Caregiver's Guide to Self-Care
As part of our Caregiving and Wellness Services, we are honored to present The Caregiver's Guide to Self-Care. This evidence-based, in-depth, yet eminently practical guide was created by Jane Meier Hamilton, RN, MSN, who has extensive experience in both nursing and family caregiving. Through her woman-owned business, Partners on the Path, LLC, she offers consultation and education for employers and for caregivers in a variety of settings.
Caregiving is both a universal and a uniquely personal experience. Navigate the caregiver journey with the comprehensive, resilience-building resources in each chapter.
Stories from the author's personal experience as a daughter grappling with her mother's Alzheimer's disease
Self-Care Recommendations that are evidence-based, drawn from research on stress, resilience, caregiving, and positive psychology
Self-Assessment questionnaires, checklists, and self-reflection guides that make the materials come alive and resonate personally
Resources from reputable, reliable health and wellness experts; informative links and videos for those who want to learn more
Support from practical problem-solving resources and sound advice with a compassionate tone throughout
View our Caregiver's Guide to Self-Care Sales Flyer
Our Optional Service: One-on-One Assistance
Our optional service, One-on-One Assistance, is a suite of important services. These provide access to a specialist to assist with financial fraud and estate settlement
Financial Fraud Assistance
Financial abuse has been dubbed the "Crime of the 21st Century." Protecting a loved one's financial assets must be a priority for caregivers. The Fraud Specialist begins this process by directing the caregiver to assemble crucial documents and guides the caregiver through replacing those that are missing. The fraud specialist then performs an exhaustive credit file review and resolution of existing fraud
Estate Settlement Assistance
Our fraud specialists are available to facilitate the settlement of a spouse's estate including credit review, b bn deceased's file suppression, searching for imbedded life benefits, and death notification to all relevant parties.